The profile status is a percentage that can be found on your overview page when you log in to your account.

The percentage you see indicates how much of your profile you have completed. This number also indicates whether you have uploaded a photo, sent any smiles, contacted your matches, or purchased a Premium membership.
You can click or tap on this percentage when you're on your overview page. A small window will open which will indicate what you still need to do in order to reach 100%.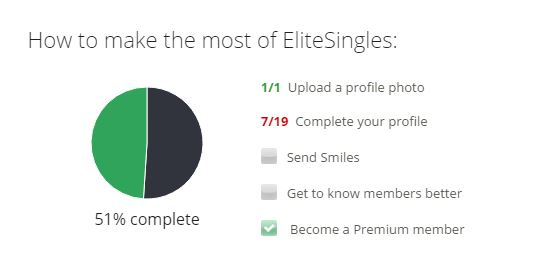 A completed profile not only increases the chances of obtaining EliteSingles partner suggestions, but it also increases your chances of being contacted by other members.
How do I complete my profile to reach 100%?
Your profile is considered complete when you have written something about yourself in every field of your profile page, and when you have added at least one photo.
Click on "Profile" to complete all profile entries under "Profile" and "Interests"
Click on "Gallery" to add up to 24 photos.
Send smiles and messages - you never know who turns out to be "the one"!
Purchase a Premium membership - just click on "Become a Premium member" in order to see all our current offers.
Remember that we manually approve all texts and pictures before they are visible on your profile. This procedure maintains safety and quality on our site, and may take up to 48 hours to complete.