When you receive a smile, a message, or a new partner suggestion, you will receive an email notification to your registered email address.
You can subscribe or unsubscribe from our newsletter, or email notifications regarding matches or messages, via your account. To do so:
1) Select the cogwheel ("(My) Account")



If you're on a mobile device, you will find this option in the menu

2) Then click on "Notification Options"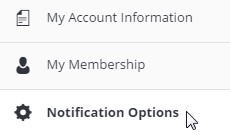 3) Mark or un-mark the email notification option.  Don't forget to save your changes.